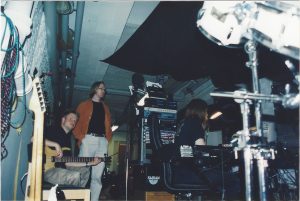 UNICORN – ATLANTIS RISING (Pre-Production Rough mix)
I am not sure, but I think this is the last thing we ever finished as Unicorn (mark II)
The chorus was later used for a Nightingale track called "Atlantis Rising" as well
This version only have scratch lyrics, but I still think it sounds cool enough to share here!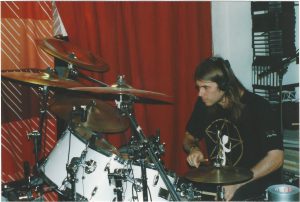 DAN SWANÖ – Uncreation (version 1)
When my days with Edge of Sanity ended in 1997, I was hell bent on making my own melodic Death Metal album
and this is as far as I came before I worked with Micke Åkerfeldt on him "Sörskogen" project and fell in
love with the more 70's flavored soundscapes and rewrote this track to fit the vibe of the "Moontower" album.
I believe I have now reused all ideas in this track except one, on other albums.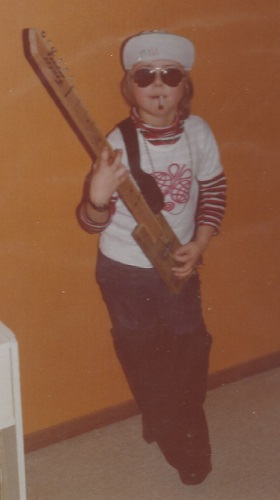 DAN SWANÖ – In Empty Phrases (unmastered)
Here's another find from my DAT transfer session. The DAT tape with the unmastered "Moontower" album is lost,
but this track was on another tape and it could mean that it is an early version or the very final version,
since I remember calling Cutting Room to tell them that I would send a new version of this track the next day
NIGHTINGALE – REMORSE AND REGRET (From an early, much better Mix of the "I" album)
I stumbled on this version when I transferred a lot of of my old DAT tapes to the computer.
I am not sure what the heck happened with the final version of "I" but this sounds A LOT cooler than the finished album!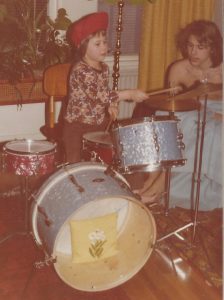 And here's I RETURN from the same mix
NIGHTINGALE – Drowning in Sadness (from the unreleased "I" mix)
To me, this is the darkest Nightingale song ever recorded.
I get shivers down my spine every time I hear it, and spiritually I am transmogrified to the forest on the album cover
The original version of this song, written by my brother Dag Swanö (released as Tom Nouga in the early 90's)
is about a very cool fish, known in Sweden as Marulk (Lophius piscatorius)
and to celebrate the cool original lyrics, here's a picture of me, looking like a Marulk!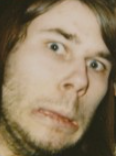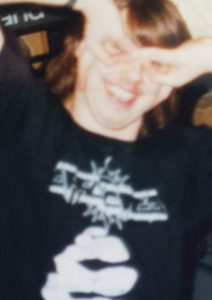 MORTIFY – Invader (Death Raider) (Unreleased 1989 demo)
Well, we all gotta start somewhere, haven't we 😉
This is the first documented solo attempt at something in the Thrash/Death vein.
Not exactly sure when I recorded this, but my guess is early 1989.
The sound quality is a bit rough, since it is a third generation cassette copy,
but what the heck, it only adds tot he "old schoolness" of it 😉
And once again I think some riffs here were recycled in Edge of Sanity
DARKCIDE – Lord of Evil (2018 Remaster)
This track is a bit special since I never intended to do anything other than try out a new pair of speakers I had bought.
I don't think there's any real lyrics here, but still, the track is kind of cool, and I love the bottom end of it.
It was released on a split 7″ with Infestdead in 2007 by my old friend John Redfern to kick start his Ancient Enemy label
but I am not sure if it's been made available in a digital format (other than a Vinyl rip or a terrible old MP3 perhaps..)
Enjoy it! I think some riffs here are really cool and I might reuse them for a future death metal adventure, who knows 😉
DAN SWANÖ/EDGE OF SANITY – HELL IS WHERE THE HEART IS (Instrumental "Me on all instruments" demo from 1996)
This is one of the first tracks I wrote for the "Infernal" album.
I had made it clear to the other guys that I wanted to play all the instruments (except Drums) on my tracks
to finally be able to go beyond limiting my writing to be played by "the other guys"
It was very liberating and I still love this track.
Now you can all make a "vocal cover" for YouTube!!

O (:the circle) – Waterfall (2018 Remaster)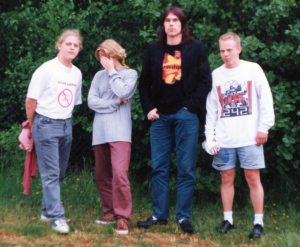 Long before Prince changed his name to a symbol, Subway Mirror changed the name to a circle..
just the symbol O..with (:the circle) after to clarify..
But once Mr. Prince did the same, we changed back…
Any how. This is an indie-rock band I had together with
Velo (Ulan Bator) Marve (Smygtrask) and after the 2nd demo Edwin (Unicorn) joined.
We released a couple of demos and almost had a record deal with White Jazz
before we messed that one up with being too weird about our album cover..
This track is taken off the "Volume One" EP and It's one of those tracks
that I really don't remember us playing all that much during rehearsal or live.
Might be a bit too much Mega City Four here and there, but all in all, a great track
that deserves to be heard in crackle-free digital form