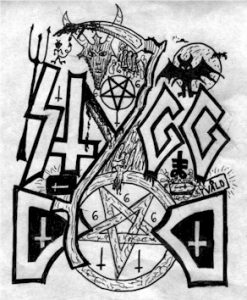 Stygg Död was a very fun project I (as "Tryggve Nilsson" Bass/Vocals) had together with
Benny "Lars-Halvar Lingonlåda" Larsson (Drums) and Robert "Sven Bratt" Ivarsson (Guitar)
We released a couple of demos in the early 90's and I found the masters for one of
them on my 4 track porta masters and decided to remix 3 songs.
Unfortunately there are no photographs of Stygg Död.
We took a few once, and I think we were naked in the snow,
at night, wearing incredibly large inverted crosses, but when we
went to pick up the photos (The black and white roll contained more normal band shots
of Edge of Sanity or Pan-Thy-Monium..) the very religious person that developed the stuff
Said the last pictures on the roll couldn't be developed.
I always wondered if he didn't want to develop them for their blasphemous content 😉
We actually played live once. A terrible gig, since Sven Bratt broke a string really
early and just spent the rest of the gig making out of tune noises. I wore my bass with a real chain
and it hurt like fuck on my shoulder! I remember that Lars-Halvars stage
outfit was a brown paper bag with the eyes cut out! Classic!
And here are 3 of my favorite Stygg Död tuned in all their remixed glory.
The lyrics are in Swedish, and not to be taken seriously 😉
Satan Är Min Pappa
666 + Våld
Satans Get Äter Brädor